April 17, 2016 | Kieu Hoang
Billionaire Philanthropist Kieu Hoang Makes Large Donations To The Free Clinic Of Simi Valley And The Samaritan Center
CEO & Chairman of RAAS (Rare Antibody Antigen Supply Inc.) wants to make a big impact on the health of the local community.​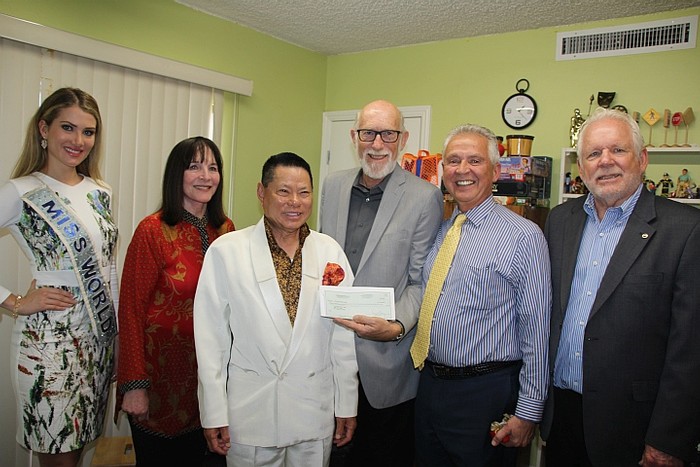 Philanthropist Kieu Hoang receives a tour of the Free Clinic of Simi Valley. Pictured Left – Right: Miss World 2015 Mireia Lalaguna Royo, Miss World Chairwoman and CEO Julia Morley, CEO & Chairman of RAAS Kieu Hoang, Free Clinic of Simi Valley Executive Director Fred Bauermeister, Free Clinic Board President Ron Hyrchuk and Free Clinic Board Member Don Sturt.
SIMI VALLEY, CA – The Free Clinic of Simi Valley announced today that it has received a $20,000 donation, coordinated by the Kiwanis Club of Simi Valley, from billionaire philanthropist, Kieu Hoang. Hoang, a successful Vietnamese-American entrepreneur in the pharmaceutical industry, visited the Clinic with Mireia Lalaguna Royo, Ms. World 2015, Chairwoman and CEO of Miss World, Julia Morley, along with representatives of the Kiwanis Club, to personally donate to the Clinics' operation. Additionally, Hoang presented a $20,000 donation to The Samaritan Center of Simi Valley.
Hoang, in past interviews has said that he wants to "cure the world." He has pledged 20% of his net worth to charities on projects where he can see the results. Hoang's focus is to see a direct return for each charitable investment.This is part of the reason for visiting the Free Clinic and the Samaritan City personally – to view the operations in action. While touring the Clinic, Hoang remarked that he likes the fact that the Free Clinic of Simi Valley is actually "free."
Free Clinic of Simi Valley Board President, Chaplain Ron Hyrchuk, Executive Director Fred Bauermeister, and Free Clinic Board Member and Kiwanis member Don Sturt, were on hand to receive the generous donation from Mr. Hoang. "We are so grateful to have a generous and visionary new partner that will join the community of benevolent local organizations like the Kiwanis in helping Simi Valley to become a happier and healthier community," said Bauermeister.
Kieu Hoang is the CEO of RAAS Nutritionals LLC, based in Agoura Hills. The company researches plasma, healthcare, animal and plant care, and energy projects. According to Forbes Magazine, Kieu Hoang, 72, is the "Richest Newcomer" to the Forbes 400, coming in at #149 in 2015 with a net worth of $3.8 billion.
Hoang started out from very humble beginnings in the U.S., as a Vietnamese refugee who had served as a combat translator during the war. Hoang's family's immigration was sponsored by the Westlake Village Women's Club and the United Methodist Church of Westlake Village. A church member who worked at Abbott Laboratories gave him his first job in the U.S. as an entry-level lab technician at $1.25 an hour.
Fast forward to 1980, Hoang with his laboratory and plasma knowledge branched out on his own his own blood plasma company, RAAS, acquiring blood plasma centers across the U.S. By the late 1980's, Hoang began expanding globally to China vaulting him into the multi-billionaire level and onto the Forbes list.
Hoang, having recently purchased the Hummingbird Nest Ranch in eastern Simi Valley, wants to make an impact on the surrounding community. According to sources, Hoang plans to have portion of the newly acquired Hummingbird Nest Ranch eventually become a wellness center for cancer patients. Additionally, he hopes to use the property to showcase his other business ventures such as wines from his exclusive Kieu Hoang Winery and introduce international clients to the area.
About the Free Clinic of Simi Valley The Free Clinic of Simi Valley has provided continuous service since its establishment in 1971 as a non-profit, volunteer-based charitable community service organization. The mission of the Free Clinic of Simi Valley is to provide medical care, counseling, dental, and legal assistance to individuals and families in need, regardless of their ability to pay. This includes those of all ages, ethnicities, religions and socioeconomic backgrounds, who are unable to use traditional sources within the community. The Free Clinic of Simi Valley is a GuideStar Gold Exchange participant. For more information, visit: www.FreeClinicSV.com and follow the Free Clinic on Facebook www.Facebook.com/FreeClinicSV, on Twitter www.Twitter.com/FreeClinicSimi and on Instagram at http://www.Instagram.com/FreeClinicSimi