August 27, 2015 | Kieu Hoang
Billionaire Kieu Hoang and his plasma supply business and premium wineries
Kieu Hoang, a Vietnam-born American businessman listed on the Forbes Billionaire rankings, is not only known for his blood plasma company and his Napa winery, but also respected for his outstanding work ethic and philanthropic passion.
A passion for philanthropy
Kieu Hoang was born into a scholarly family, with his grandfather being a Hue royal court mandarin, in Bich Khe Commune, Trieu Phong District, Quang Tri Province in Central Vietnam. His childhood memories include images of a poor village that was comprised of many thatched cottages, except for his grandfather's home that had a red tiled roof. Growing up, Hoang was well aware of his native land's hardship and has always been motivated from a young age to help his fellow countrymen escape poverty.
At age 5, Hoang moved to Sai Gon to live with his uncle, Hoang Thi Tho, a well-known musician and song writer. In the big city, his ambitions grew as opportunities arose allowing him a life of independence and self-reliance.
Hoang immigrated into the US with his family in 1975 with dreams of success and a desire to help his fellow countrymen. A few months after his arrival in the US, Hoang landed a job at Abbott Reference Laboratories in Newbury Park, CA. Within 5 years, he became director of the plasma testing and manufacturing division that managed the first FDA-approved plasma testing laboratory while pursuing his degree in business administration.
In 1980, he founded Rare Antibody Antigen Supply Inc. (RAAS) and began to acquire a number of plasma centers that produced rare antibody antigens in the US. From 1987, he started to collaborate with Shanghai Blood Center and, in 1992, established Shanghai RAAS, which supplies albumin, immunoglobulin and other blood-derived products.
Success did not come easy. His day typically starts at 5 am and ends around midnight. Despite his heavy workload, every morning Kieu regularly jogs for 5 miles near his home in Westlake Village, CA to maintain a healthy balance of work and life. Hoang received the "Businessmen of the Year" Award by President George W. Bush in 2005.
In spite of his tremendous success as a businessman, Hoang's friends and family often think of him as a man who lives a life not only for himself, but for his family and his country. Dedicated to various charitable causes, Hoang has donated over USD 1 million to build 1,000 houses for the poor, assist typhoon-stricken communities and disadvantaged children throughout Vietnam since 2006. He is always driven to help the less fortunate and inspire people to succeed.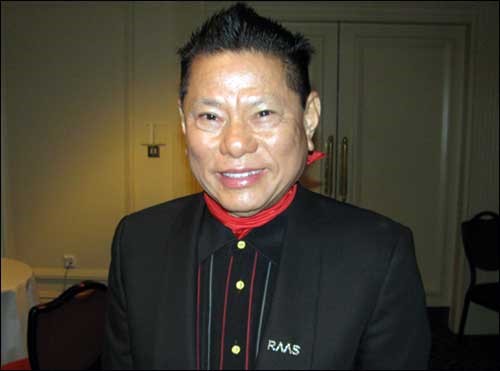 Kieu Hoang Winery in the world's renowned Napa Valley
Hoang's interests range from blood plasma to luxury handbags, cosmetics, nutritional supplements and wine business.Fusing almost 40 years of pharmaceutical experience with a passion for premium wine, Hoang strives to craft quality wine by working with some of the world's finest winemakers. Combining the revered tradition of Italian winemaking expertise with state-of-the-art technologies in fermentation, filtration and yeast processing, Kieu Hoang Winery is ushering in a new era of rich, cultured vintages that lend scientific truth to the art of toasting to one's better health and happier life. Kieu Hoang Winery uses hi-tech control technologies for production, while adhering to sustainable and organic standards to preserve the Napa ecosystem.
"Winemaking is an important and delicate process, and our experience in the pharmaceutical industry guarantees that we follow the strictest quality controls and testing when it comes to creating beautiful, premium wines" Hoang says.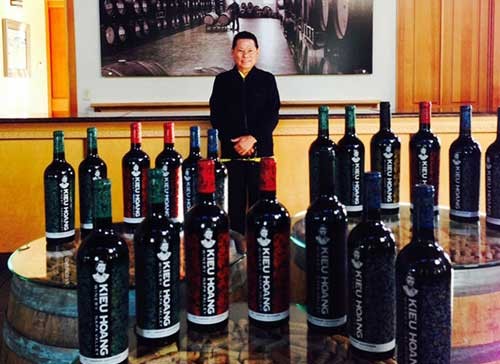 The acquisition of the Michael Mondavi Estate, and later the Guilliams Vineyards, has placed Kieu Hoang Winery at the center of the world-renowned Napa Valley. The 20-acre Mondavi Family estate in the prestigious Los Carneros region includes a crushing facility, tasting room and two parcels of vineyards. The Guilliams property, on the other hand, has grown wine grapes since 1890. This area has four distinct soil types with multiple microclimates that help enhance the rich and complex flavor of its grapes.
In November 2014, Kieu Hoang Winery held a luxurious grand opening that included celebrities such as Chinese actress Li Bingbing, who is Kieu Hoang Winery's brand ambassador; Leona Lewis and Isabelle Huang Ling.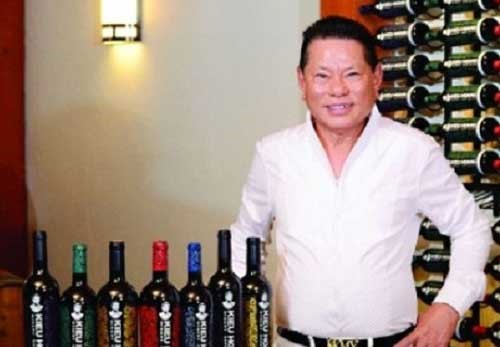 "We love to innovate," Hoang says. "We are not producing your regular or daily table wine, but what we call a high-quality vintage of fine wines under various labels. We have truly created an amazing wine experience." Kieu Hoang Winery offers a number of varieties such as cabernet sauvignon, chardonnay, syrah and blends.
Kieu Hoang was, has been and will be bringing to the world renowed products. Besides, he has never forgotten he is a Vietnamese-origin person. With his talent, dedication and opportunities, he has been working hard in order to raise money for the philanthropic work at his homeland of Vietnam.
Read the article in Vietnamese, click here!
Theo CSTC, Vef.vn Vietnam Economic Forum
PUBLISHED : 25 August, 2015